My name is Rich West.  I grew up in Spring Lake, New Jersey, which is on the jersey shore.  My Dad was an attorney and my Mom was a homemaker….and the one that really ran the home.  I guess that makes sense because before she started raising a family, she was an Army Officer.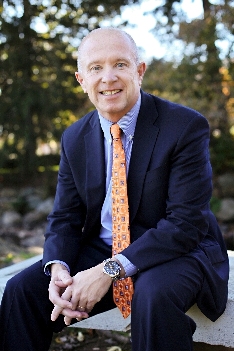 I graduated from St. Rose High School in Belmar, N.J. which is just north of Spring Lake.  During my High School years I didn't participate in a lot of school activities because I wanted to work and make my own money.  I caddied at the local golf course as much as I could and played golf just as often.  And if I had any time left over, I spent it at the beach.
One hobby I did have was reading, particularly fiction, history and geography.  In fact, I still am an avid reader.
During my senior year,  I decided that I would attend the University of Delaware.  There's really only two reasons why I chose this school.  One, a good friend of  mine was going there (he later became my roommate) and two, my next door neighbor was a student there and she really liked it.
During college, I worked for a friend's family printing business and delivered business cards all over the state of N.J.
As I neared graduation from college, I knew I didn't want to deliver business cards the rest of my life.  And with the liberal arts degree I was going to get, I didn't think it was very marketable in the business world.  Since my Dad was an attorney, I thought I would try that too.  After all, he enjoyed being an attorney.
I didn't want to attend law school in some far-away place so I entered Seton Hall University's School of Law after graduation from college.  During law school, I worked for Sills Cummis, one the largest law firms in the state, as a paralegal.  And after graduating in 1990, I went to work for them as an associate attorney.
Several years later, I went to work for Cohen Shapiro because a good friend of mine from law school said it was great place to work.  Although that firm no longer exists, I very much enjoyed my time there.
I then moved on to International Business Research, a large firm that did due diligence investigations and litigation support for investment banks and law firms.  I accepted this position because it gave me the opportunity to gain experience with litigation proceedings which I had not been exposed to in my career yet.
Then, just a couple of years later, the same friend from law school who recruited me to come to Cohen Shapiro came to me again.  This time he wanted me to go to work for the New Jersey Division of Consumer Affairs (DCA).  He was the Division Director at the DCA, which is part of the New Jersey Office of the Attorney General. It is the state's consumer watchdog.
They conduct investigations into business practices of companies in NJ.  Additionally, the division is home to almost all of the state's professional licensing boards.  I had two main duties while at DCA.  My primary duty was as Executive Director of the Office of Consumer Protection, which was basically the investigative unit for enforcement of the NJ Consumer Fraud Act.  I was also a Supervisor of the Charities Registration Unit.  This unit was responsible for charities registration as well as investigations into improper fundraising.
This experience is what largely led me to focus on Professional Licensing Defense and the Consumer Fraud areas.
I left the DCA in 2002 and opened a small law practice with a partner – Savage West.  Then in January 2005, I started my own law firm, Richard West Law, LLC.
Over the last decade, I've accumulated a significant amount of experience in professional license defense – particularly in the Healthcare industry – when healthcare professionals are disciplined by the DCA.
If you need assistance with a disciplinary matter in the state of New Jersey, please call me at 973.377.0007 for a free consultation.
Background and Experience
Marital Status – Married
Children – 3, ages 13, 9 and 7.
Hobbies –  Golf, running, cycling, reading.
Pro-Bono Work –  I have worked in the past on matters for the Pro Bono Partnership, which assists non profits with legal issues.  I also serve on the board of my local pool club.
Degree – BA, Political Science, University of Delaware, 1985.  JD, Seton Hall University, School of Law, 1990
Bar Associations – NJ Bar Association, Health Care Section, Morris County Bar Association
Admitted – NJ & NY